The use of shingles has taken a contemporary turn in recent years, and is increasingly seen cladding sections of facades to bring detail and texture to the exterior of a home.
Shingles are individual overlapping elements that are generally fixed over sheathing or timber battens. They are laid in courses, or rows, from the bottom to the top of a wall, with each successive course overlapping the one below. Shingles are typically applied in straight, single courses, but variations on this can be used to create interesting, decorative effects.
Image via: Austin Maynard Architects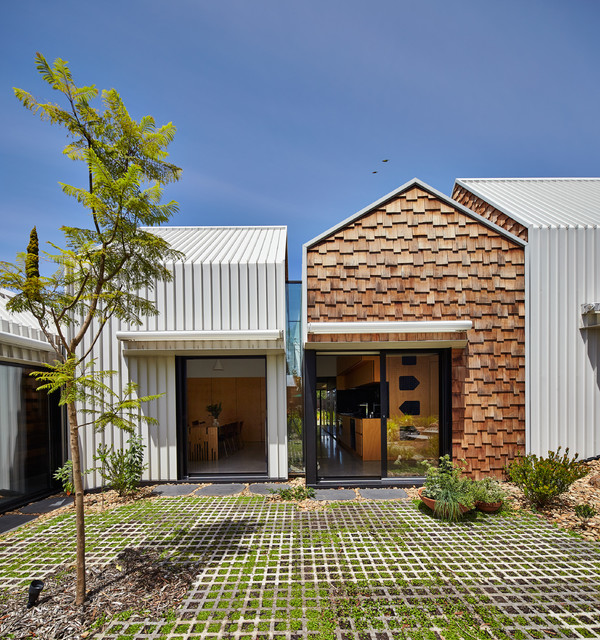 Timber is the traditional material for shingles, and in Australia it is often made from imported western-red cedar, a durable wood from North America.
Cedar shingles are resistant to harsh weather and environmental conditions. Shingles take on a textured and rugged appearance as they naturally weather. They also grey with age unless stained, painted or coated with water-repellent preservative. Wood shingles are a fire hazard and some local Australian governments restrict their use.
Think of a shingle-clad house and traditional American styles probably leap to mind – the weathered grey Cape Cods on the East Coast, the grand Shingle-style homes of the late-nineteenth century, or the rich red cedar-skinned homes set among lush forests.
But the use of shingles has taken a more contemporary turn in recent years, particularly in Australia. Used to clad clean and simple forms or highlight sections of facades, shingles bring detail and texture to the exterior of a home. Considering shingle cladding for your home? Read on to learn all about it, and peruse a selection of homes where it's been used to great effect.